On the great plains of Nebraska there really isnít much to do but herd cattle. There ainít nothing like waking up a in the morning to work in the fields. I own 435 acres of clear flat land that has been in my family for over a century. Since the beginning of the western expansion this land has been used for cattle raisiní. The whole family and I work out in the field. I have two sons; Hartely age 10, and Charley age 15. We all do our part. My kids have never left the state of Nebraska. My kids love helping me so I wanted to do sumthiní nice for them, so me and the wife came up with a plan. One evening after dinner the wife and I sat the kids down and told them where were goiní. I said ďBoys, weíre goiní to Disney!Ē Boy, they were never so excited in their life. I couldnít have been happier neither. I did some lookiní on the websites and I found a site that gots some good deals. I was really lookiní for some information about Disney. We got all of our Disney World tickets and our hotel there in Orlando. The family and I packed up the old truck and made our way on the long journey to Florida. It took us about 3 days to get there. I ainít never seen my kidsí eyes so big! This was a big thing for them and me. I ainít never been to Disney either. My wife went we she was little but there wasnít nothing there when she came down. There was so many things and people here, I didnít know what to do. We found our hotel and got all our stuff inside. We decided to just check out Orlando a bit Ďcause it was too late to go to Disney that day. The next morning we got up real early and got ready for our first day at Disney. There are lots of parks in Disney (about four of emí) but theyíre real hard to choose from.
Day 1
We chose Animal Kingdom to start out with Ďcause its got animals and the kids and I love the animals. Our first stop was the big tree. That was neat, there was carved pictures of animals and people all over the tree. I thought for the longest time that the tree was real. Come to find out the tree is made out of plastic and steel (but, shhhh! Donít tell the kids). What the kids wanted to see the most was a giraffe and a monkey. My youngest one Hartley wants to be a veterinarian Ďcause he just loves animals. So, this was a big experience for him to see what these animals really look like. Charley also likes animals but, he really like the rides. So Charley was most excited about the Mount Everest ride. We split up so Sue and Hartley went to go on the safari and Charley and I went on Mount Everest. We stood in line and I was a bit scared cause I ainít never been on no ride like this before. I went to the fair when it came to town but nothing like this. After that heart attack, we went to get something to eat at one of the restaurants in the park. As the day came to an end we left the park and went back to the hotel and went to sleep.
Day 2
The next day, we all piled in to the hotel shuttle and went to Hollywood Studios. Course both of the boys wanted to go on the tower of terror. Lordy! I felt like one of them movie stars in Hollywood. Everything is all rich and fancy, this is a big jump from the farms back home. We went to the Tower of Terror and the line was huge! Then we learned about those fast pass thingys. It gave us a time to come back to the ride. So we just walked around and checked the shops and stuff. Then the time came to head back to the ride and my wife decided she was too scared to go on it. Well, I sat out and let the kids ride it by themselves. They were so happy that they got to do something on their own but I was scared to let them go alone. After that we went to the Rockiní Roller Coaster. I wasnít all that fond of the rock music but, the ride was neat. I didnít like the loud music and all the bright lights. The kids had a blast on that ride. Then the day came to an end but no one was tired so we went to one of those fancy dinner shows. I reckon that was some fun right there.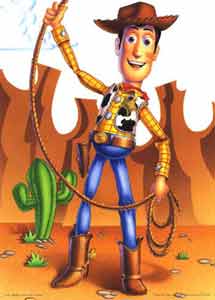 Day 3
The next morning we got up and got ready for the next day on our great Disney trip. Today we are going to the park with the castle that they call the Magic Kingdom. The kids are not all that excited about this park but this is where my wife came and she really wanted to go. As we entered the park there was a lot more here then the other parks. I really liked this park Ďcause it was like stepping back in time when things were simple, just the way I like emí. Just taking the nice walk down Main Street I started to feel like I was in a good place. The rides were more high tech at this park. The Space Mountain ride was a fast ride and it was very dark. Then there is the Haunted Mansion. I was spooked right out of my britches! After that the family and I went to Tom Sawyer Island. This was a beautiful place to relax. Wide open spaces mixed with thick jungles. I love this part of the trip. Then the firework show at the end of the night just put all of us in a great mood.
Day 4
On the last day we did something that we normally donít do. We slept until that morning and it sorta felt good to not worry about the cattle for a couple of days. When we got up, we went to the last park Epcot. This is the park with the huge golf ball. That was the first ride we went on. The ride in the ball is called spaceship earth. Itís a ride that is always moving and it takes you on a journey through time and the history of communication. I was a little bored but the kids were learnin something so I stuck it out until the end. The best ride is the soarin over California. We all thought that this was the best ride in the world. Mission Space was good and Test Track was nice but soariní over California was such a thrill. Then there was the walk around the world! We started out in Canada and made our way around the world. We all were curious to try some real Japanese food. Thatís where we ate dinner. I tried sushi for the first time, and I also tried some sake. I guess its Japanese liquor. I normally donít drink in front of the kids but they had no idea what it was so it was nice. Then there was the grand finale of the day. This was the firework show at Epcot. They call it Illuminations. As we are watching this colorful show of fire I started feelin' this feelin' that I never had in my life. I donít know what it is but I feel so good. As we sat there watching the fireworks I realized that there is so much out there for my kids to see and I want to make it a point to take a trip to Disney every year or at least once every other year. As we loaded our things from the hotel I thought about everything that we had done on our vacation and what experiences we had seen on our great Orlando trip! Iím very glad to show the kids a world outside of Nebraska.